I've been working to get a good shot of the moon.  My previous attempts have been OK, but not as sharp as I thought they should be.  (See That's Amore!) I figured out the problem and am fairly pleased with this one.
First I mount my Sony SLT-A55 on a tripod. To get a closer view I use a 300mm zoom lens. Even with the lens magnification, it requires quite a bit of cropping to enlarge the image.  I switch the camera to manual focus.  My camera also has a setting that allows me to enlarge the image in the viewfinder or LCD screen to really hone in on the focus. I also use the 2-second timer on the camera so that I'm not shaking the camera by pressing the shutter button.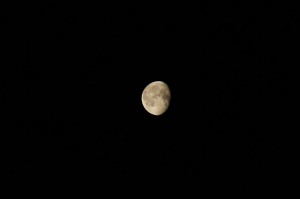 I thought the problem was the inexpensive tripod I was using – that it wasn't stable enough.  I also thought it could be a limitation with the lens, since the one I own would fall under the "budget" category.  One other possibility was the UV filter – a clear filter used mainly to protect the lens.
It turned out to be the UV filter.  I took a couple of shots with a new, solid tripod and things looked the same as with the flimsy tripod.  Then I removed the UV filter and saw an immediate difference.  The photo above is the result. Looks like I'll have to invest a little more in a better UV filter.
The smaller image gives you a perspective of the size of the moon in the actual image the camera captures.  Then I enlarge the view by cropping it to fill more of the frame.
(Click on either photo to see a larger version.)