The color of this bird is so vivid, it almost hurts your eyes.  
This Scarlet Tanager was perched in the middle of our apple tree when I took this photo.  A spot where a lot of birds would blend in and not be noticed. This guy was an obvious stand out.
This is the first Scarlet Tanager we've seen at our home in rural Kewaunee County, Wisconsin. It seems he was just stopping for a snack on his way to wherever he'll spend his summer.  He spent the afternoon alternating between the apple tree and the platform feeder where he ate on the  oranges we have out for orioles and house finches.
According to Wikipedia – – The Scarlet Tanager (Piranga olivacea) is a medium-sized American songbird. Formerly placed in the tanager family (Thraupidae), it and other members of its genus are now classified in the cardinal family (Cardinalidae).The species's plumage and vocalizations are similar to other members of the cardinal family. Adults have pale stout smooth bills.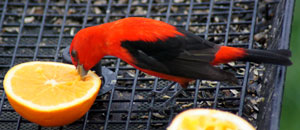 Adult males are bright red with black wings and tail; females are yellowish on the underparts and olive on top, with olive-brown wings and tail. The adult male's winter plumage is similar to the female's, but the wings and tail remain darker.Scarlet Tanagers are often out of sight, foraging high in trees, sometimes flying out to catch insects in flight. They eat mainly insects and fruit.
(Click the images for a larger view.)