Hug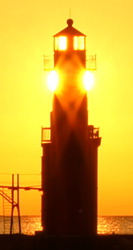 One of the things I like to do is catch the sun peeking from behind the Algoma, WI lighthouse.  I took this image last Sunday morning on my way to church.  The sun is rising pretty early in these parts right now.  This photo was snapped around 5:55 am.
More clouds in the sky would have made this a more interesting image for me.  The one thing I do like – and the reason I think it's worthy of sharing – is the way the sun seems to reach around the lighthouse.  The rays remind me of  arms reaching around to gently, warmly caress the lighthouse. A good morning hug!
I've isolated and enlarged the lighthouse to give you a better view of the sun's embrace. (Right)
To see a larger version of the top photo, click on the image.