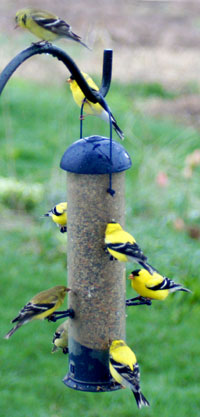 This American Goldfinch (male) was hanging on the top of the finch feeder, waiting for an opening on one of the perches below. As you can see, it's a popular neighborhood dining spot.
This image was taken on a drab and drizzly day, so you'll notice his feathers appear a bit damp.
There is no shortage of Goldfinches at our house – year round.  (Might have something to do with the food we put out.)  It's nice to see them back in their bright yellow and black plumage for the spring and summer.
(Click on the main image for a larger view.)